Finding crash logs on Windows 10 is quick and easy if you know where to start.
(If you are using Windows 8 or 8.1, here is an article tailor-cut for you on how to find crash logs on Windows 8.)
Find Windows 10 crash logs the easy way
…and you won't ever need to dig for them the hard way.
Step 1. Click on the search icon and type "Event Viewer"
Click on the Search icon located in the task bar. As soon as it pops up the search field, you can immediately start typing. Enter "Event Viewer" and watch the results unfold.

(Search in Windows 10 will behave differently depending on whether you have enabled or disabled web search. If you are one of them, searches, here is a tip on how to disable web search from the task bar so that it no longer interferes with your desktop searches.)
Step 2. Type in "Event Viewer" and watch the results unfold
Wait for the list of search results to quit reshuffling, then right-click on the entry Event Viewer: Desktop app and select the command Run as Administrator.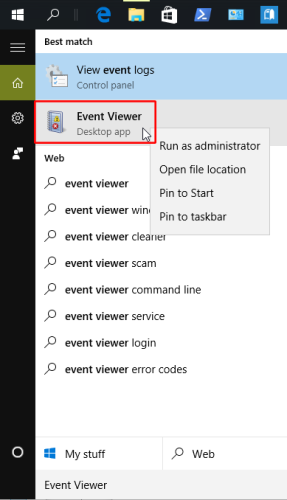 Step 3. Create a custom view and export the logs you need
In the Event Viewer, navigate through the various categories (called Views) in the left-hand navigation pane in order to inspect the various events in the main section of the screen. You can adjust your filter criteria until you find what you were looking for.
For quicker access to particular types of logs, click or tap on Create Custom View. Enter your criteria and confirm.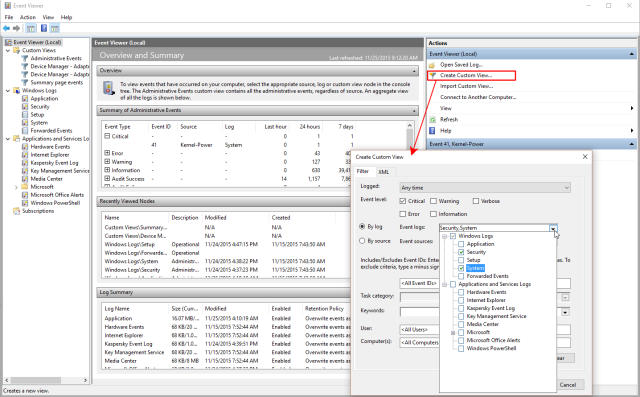 In order to export some of the logs for external diagnostics make your selection in the list, then simply hit Save selected events….
If your computer is giving you a hard time with persistent crashes and the like, you may need to perform some repairs such as restoring the boot directory. Here is how to do this: How to Repair Windows 10 to a State of Sparkling Awesomeness: Recover from Crashes, Restore, and Reboot.
---
One last tidbit of rather obvious advice: should you be experiencing system freezes or crashes, you may need to repair your file system to prevent further damage occuring. The simplest way to do it is by running this command:
chkdsk /F c:
on each one of your drives (c: d: e: and so forth) in the Windows PowerShell as an Administrator. For all the drives that Windows reports as being in use, you should allow the system to reboot (do NOT force a dismount!).
---
Have you displaced your own, legally purchased, license key for Windows 10? Well, then why don't you retrieve it, then. Here is how to do this in a breeze (no complicated workarounds required!):
How to Retrieve your Product Key for Windows 10 and Your Applications

You can get your free Windwos 10 upgrade via built-in Software Update (it's a time limited offer from Redmond so hurry up) or
get your copy of Windows 10 64 Bit System Builder Home or
Microsoft Windows 10 Pro 64 Bit System Builder OEM
 if you so fancy.